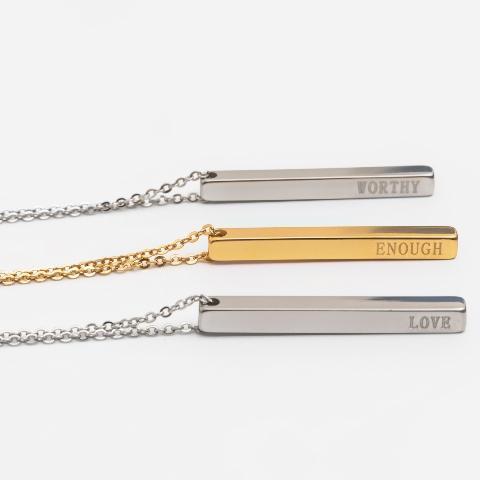 Worthy Wands

Have you ever felt like you're not good enough, you're not lovable just as you are, you're not tall enough, skinny enough, attractive enough, popular enough, successful enough?  Maybe you've even bought into the story that you don't fit into "this" box? Maybe you sit and compare yourself to perfect strangers on the internet and are letting the "mean girl" in your head take over, telling you that you're failing at life? If this sounds familiar, then girl, you need a #worthywand!
Kathrin loves wearing this almost every day and suggests that you get one for yourself too. You'll be amazed at how quickly your subconscious mind wires itself to believe "You ARE worthy and you ARE enough".
Instead of saying "I will be worthy when," take your power back and say "I am worthy because." Our worth doesn't come from being chosen by others it comes from choosing ourselves. It's time. You need to give yourself permission and OWN that you're worthy, you're enough and you matter, you gorgeous soul.
FEATURES:
Stunning Silver 1.5-inch solid pendant or 18K Plated Gold 


17.5 inch necklace with extender chain

Engraved with ENOUGH on one side and WORTHY on the other, or WARRIOR on one side and LOVE on the other


Please note: the 10% discount does not apply to Worthy Wands
CARE:
Avoid frequent contact with strong chemicals, such as detergent, bleach, perfume, etc. Store wand away from moisture. Do not wear them in hot tubs or swimming pools for lasting wear.